Meet Daa Daa, he lives in Bengaluru with his parents and sister, Dee Dee.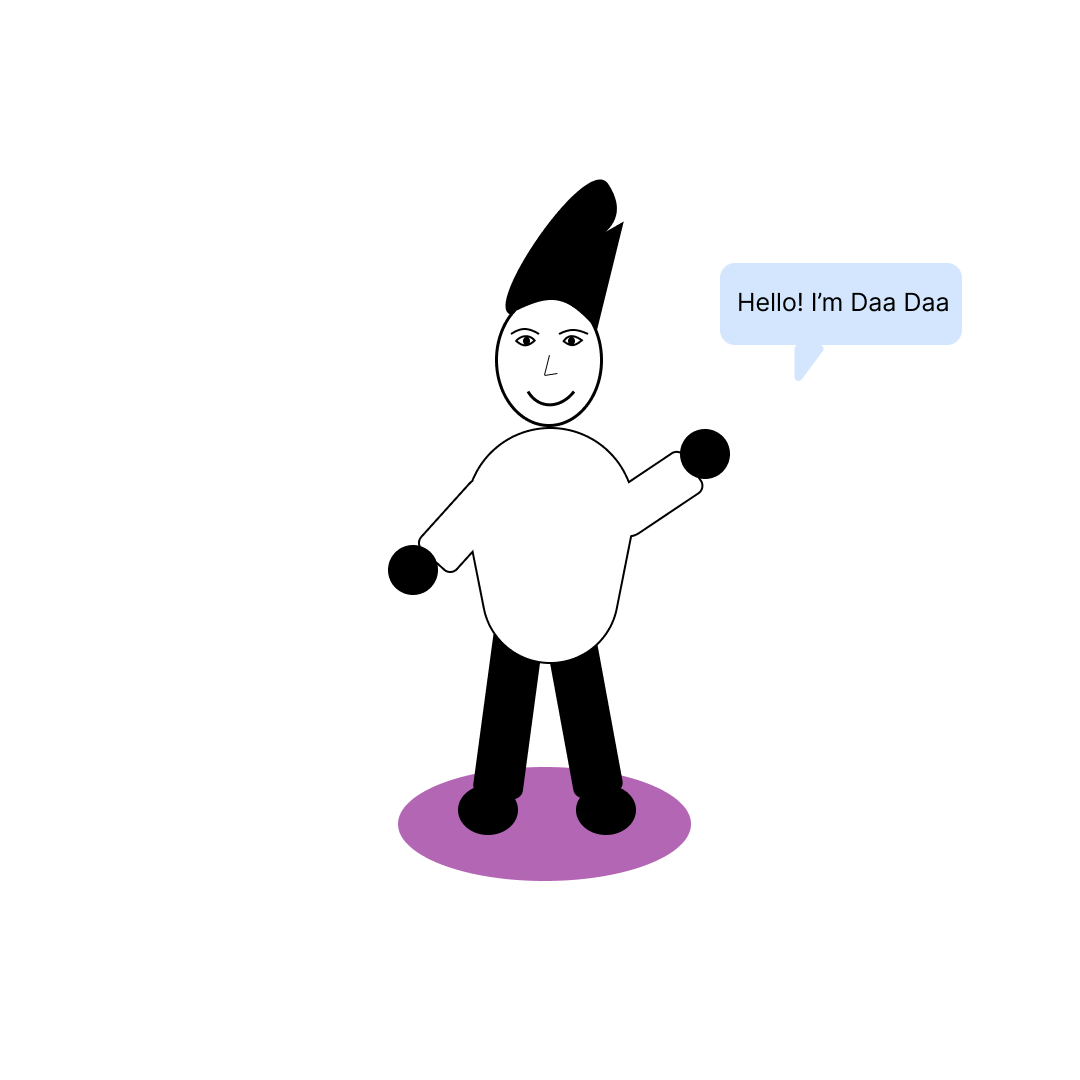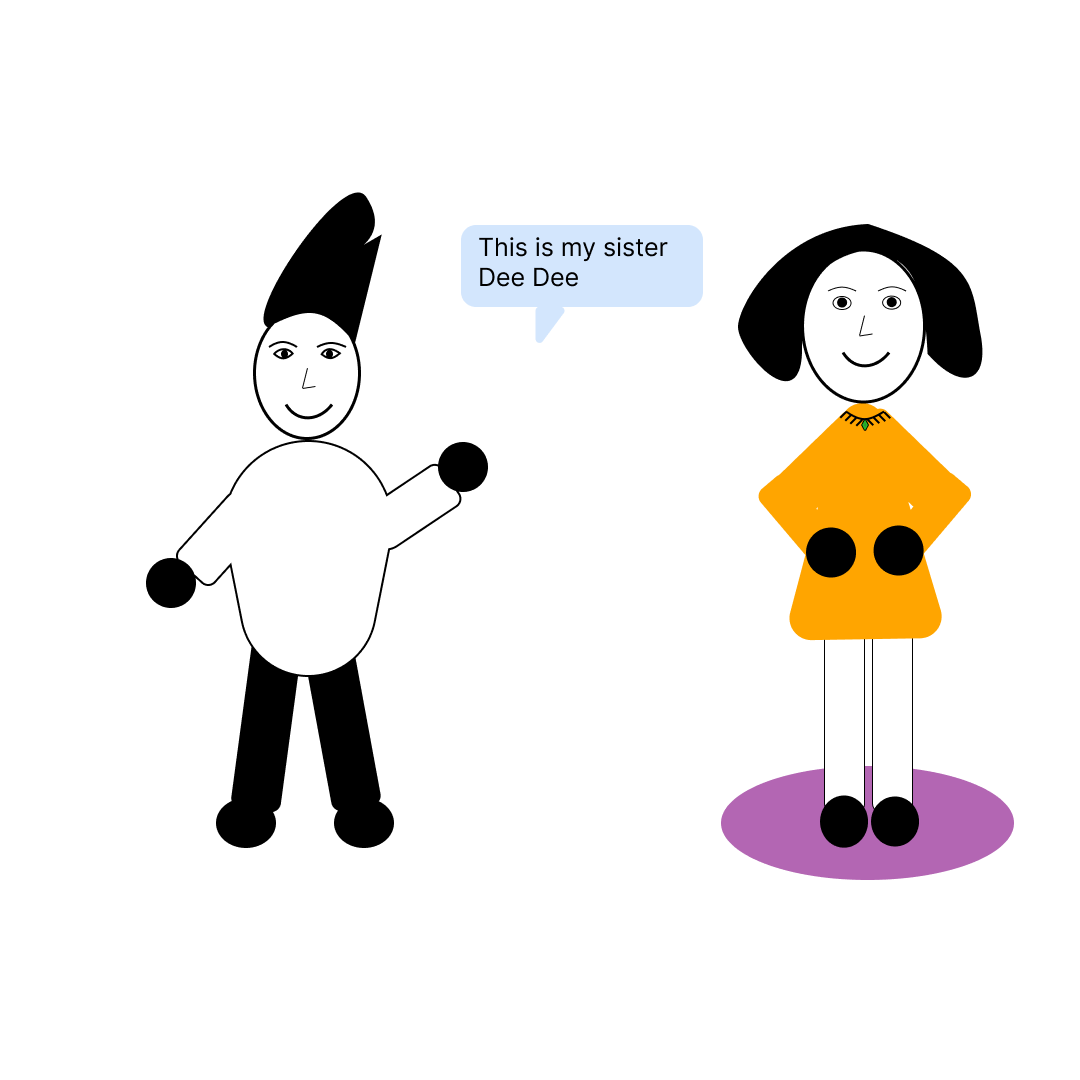 Daa Daa is the youngest member in the family but is cool, calculative and cautious about everything, especially about money.
This is so because, his sister Dee Dee (who is cool and awesome, ofcourse!) lives for the moment and loves her family to the fullest and of course her brother a lot.
Dee Dee is an engineer who started working 6-months back and Daa Daa is a musician and a nursery school teacher. Dee Dee buys the latest new gadgets in the market and gifts it to Daa Daa who complains that he is being pampered (who complains about being pampered 🤔)
Meet Sa Sa!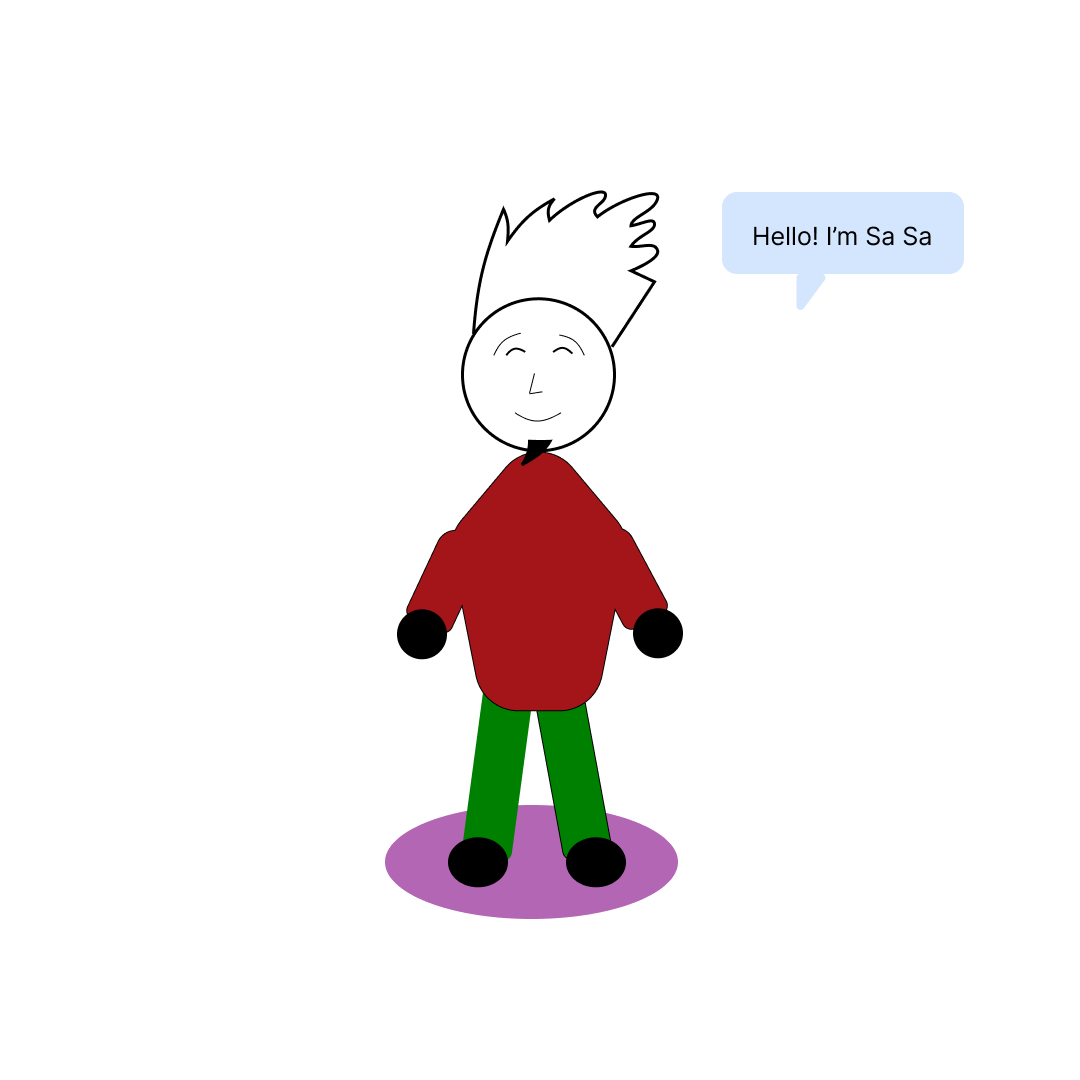 Dee Dee's friend Sa Sa finds out the latest gadgets to buy and loves to keep everyone (his audience) hooked on his recommendations. He runs a Youtube channel and has a lot of subscribers.
---
Sa Sa meets Dee Dee for coffee and tells her about his latest find, a brand new phone that has these amazing features and is available at a 20% discount. Dee Dee is all ears 🤩😍
She desires to buy it but soon realizes that she is short of cash (digital cash 🤑 of course!). She says, "I wish I had the money to buy this phone. I'm lost now, what do I do?"
Sa Sa comes to her rescue.
He tells her to defer the payment using the No-cost EMI option available at checkout on the ecommerce website. He shows her how to select the option and convert the payment into easy installments. "It's just one click away, he explains".
Wow wow wow, this is amazing says Dee Dee.
She is smiling all the way 🥰😃
She asks him, "How do you find these amazing things Sa Sa?"
He says, "I'm want to help my friends and I find these super useful hacks and apps and all things tech, I'm so satisfied when I see you happy".
---
Dee Dee wonders out loud, " This is too good to be true, right. It says EMI but this is not a loan right?
Do I have to pay interest?
What is No-cost EMI?
Sa Sa replies, "That's the best part! No interest, it's interest free - you just divide the total amount by the number of months, say 3 months and pay it monthly."
Dee Dee says, "I hardly have any money left in my bank account by the 15th of every month, won't they ask me how I will be able to pay this back?"
And I don't even have a credit card.
Sa Sa explains, "This is Buy Now Pay Later plan and is simply buying now and paying in several installments and they are made for people with no credit card or credit rating and who are not eligible for any other loan."
"For example, these are for small purchases and you can use it to defer paying your grocery bill, cab rides, food takeaways and orders, gadgets of course and even travel.
A lot of payment platforms, digital wallet operators, and even major e-commerce providers have built a BNPL offering on top of their existing services."
Dee Dee remarks, "Wow, this is so cool 😍"I'm so glad I met you today.
I'm ordering the phone right away. 🤔 You know what, let me make that two. I'll order two phones, one for Daa Daa as well.
I'll buy now and pay later.
---
Daa Daa joins them and overhears their conversation. Nodding thoughtfully, he wears his awareness lens.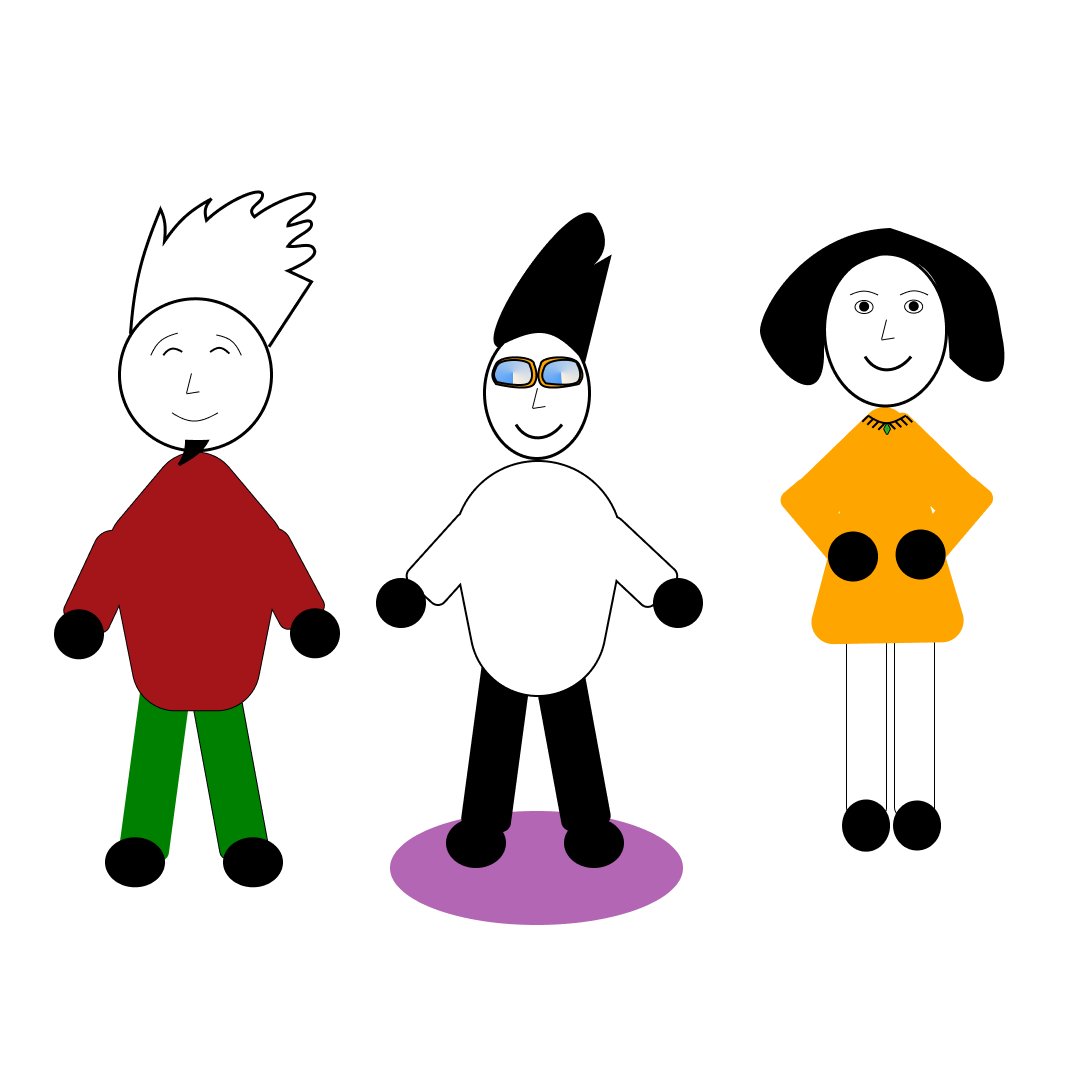 Daa Daa begins,  "Buy Now Pay Later" is a point of sale product and is not new at all. In India, typically when you buy appliances in physical stores, there are representatives from Bajaj Finserv offering you to pay in installments.

Another relatable example is your neighborhood kirana store (grocery store), milk store, and local tea stalls where you settle the bills once every month. These are truly interest free deferred payment and the friendly grocery store owner would not penalize you or charge a late fee if you miss a payment.

At the most, he/she will just stop allowing you to buy anything till you settle the dues.

The same model is adopted across digital e-commerce and other stores but with one major difference. Should you miss the payment, you will be charged a late fee and penalty and your credit score (whether it existed or not) will go down.

A credit score decline affects your prospects of taking a loan for buying a house, or funding your higher education etc in future.

A number of such loans (BNPL) adds up to engulf your monthly income and drag you into the debt well (that is deep and is hard to climb back up).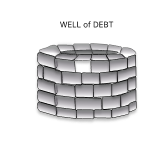 One way to keep a tab on your debt level is to find out how much debt you repay every month - find out total amount of income you earn each month

Find out Debt to income Ratio = Monthly Repayment of Debt divided by Monthly Income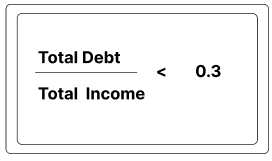 A ratio >1 means you are over-indebted and aim to maintain this ratio below 0.3

---
BNPL transactions increased a lot during the pandemic.
The participation of the young population in the digital e-commerce transaction, digital natives and aspirational consumers who are driven by short term needs dominate the market that currently stands at 250 million Indians.
In comparison, only 67m people have credit cards.

Excess credit is not yet been a problem in India and this graph tells you how much personal debt we owe compared to other countries.

Source: BusinessToday.in
The low credit penetration to the informal economy with sub-prime/ first time borrowers and reluctance of traditional banks to lend to these small borrowers with low or nil credit history rapidly increased the adoption of BNPL schemes across service providers.
On the demand side, consumers are increasing adoption of BNPL schemes.
There is a huge uptick in demand with more than 54% of the consumers surveyed by YouGov (global market research and data analytics company) said that they tend to make impulsive purchases using BNPL.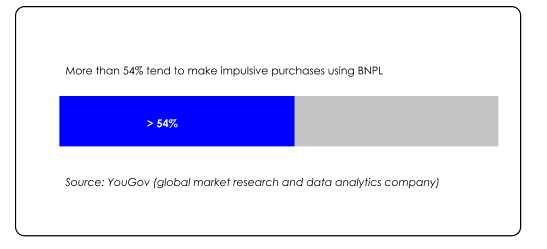 And, 49% of consumers feel financial matters confuse them 🤔
On the supply side, there is a huge opportunity for growth in BNPL transactions with Redseer research estimating that BNPL transactions are now at $3-3.5bn in India and is expected to grow to $45-50bn in 2026.
All companies are digital lenders nowadays and they see this as a huge opportunity for them to tap into. Rightly so, they want to offer innovative products and services that will help build their customer base and make it profitable for them as a business.
What can the buyers do?
---
"Caveat Emptor" - which means "Buyer beware"
The buyer needs to wear the awareness lens to be able to see what is best for him/her given his/her context
Daa Daa thinks out loud, "What is one thing you can do to keep personal debt in moderation?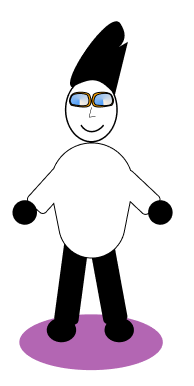 Fix Limits on transactions - For example: limit spending on coffee to rupees 150 per week, spending on gadgets at rupees 1000 per month and clothing and entertainment at rupees 500 per month and so on.
Implement the "Ice Glass" method as a method of cooling off period for large purchases
If you surpass these limits, select penalties like uninstalling the ecommerce account from your phone, tax yourself for spending and transfer money to a charity your friend chooses.
Trigger an email automatically once you exceed your limit that reads as follows: (have to find out ways to do this) -
Dear Daa Daa,
This email is to draw your attention to the fact that your sister, Dee Dee, who is generally an upright citizen has exceeded her spending limit on gadgets of rupees 1000 by rupees 2500.
Best Wishes,
berupeewise team
Inspired by ideas in Dan Ariely's Predictably Irrational
---
Dee Dee agrees to set limits on transactions and review these limits periodically. Sa Sa signs off with a lot of insights into BNPL schemes and promises to do more research before he recommends products to his subscribers.

Did you know about BNPL schemes? How aware are you? How do you keep track of your discretionary spending?

If you had an option to buy a new phone at the best offer, would you use the BNPL option. If yes, why? If no, why not?
Want to read more stories, subscribe to my newsletter here